If you're receiving an error message when trying to authenticate your social account(s), we're here to help! We'll review some error messages below and the ways you can troubleshoot.
💡
Tip: Visit Connect Your Socials for step-by-step guides on linking different types of social platforms to your Link Accounts page.
Instagram
Please verify that you are connecting to the correct FB page with your IG business or Creator account. If this is a personal IG account, you don't need to connect it.

There are two reasons you're receiving this error message:
Instagram is set as a personal account. 



Note: If you do not plan to update to a professional Instagram account, you can still add your username. However, you and your Campaign Manager will not receive most of these benefits.

To add your personal Instagram account:

In your Link Accounts page, click (or + Add Another).
Select Instagram.
Hover over the new section and click Add account.
Enter your username or the full URL of your Instagram account.
Click (or Add) to confirm.

A Facebook Page is not connected to your professional (business/creator) Instagram account.



Note: The Facebook Page can be blank and does not necessarily have to be active. A Page just needs to be connected to your professional Instagram account.
To fix this, you must:
Update your Instagram account type to a business or creator account.
Connect or create a Facebook Page through your Business/Creator account.
You did not allow all requested scopes.

As a standard, most social platforms request that you review third-party permissions when linking your account with a partnering brand/agency. All permissions must be enabled to successfully authenticate your social accounts.

To fix this, there are two parts – Facebook and your Link Accounts page.

Part One
Login to your Facebook account.
Click on Settings & Privacy.
In the dropdown, select Settings. 
Click on Business Integrations.
Find CreatorIQ.
Click (or Remove).
Part Two
After removing CreatorIQ, navigate back to your Link Accounts page.



Note: Your Link Accounts is the page you received from your Campaign Manager to connect your social account(s).

Hover over your Instagram handle and click (or x) to remove it.
Click (or Add another).
Select Instagram.
Hover over the new section and link your Instagram account.
Note: We understand how important your data is, so we only collect read-only information. Please review our privacy practices for further information!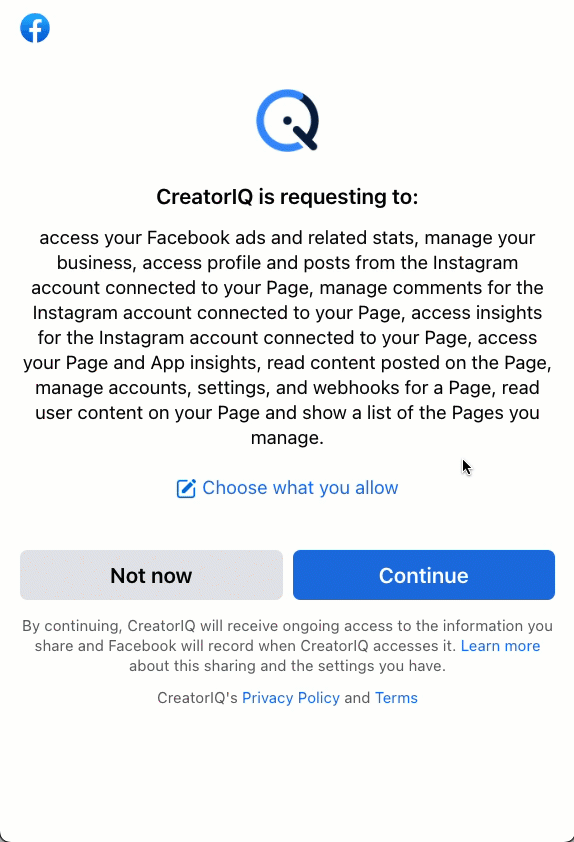 All Platforms
The social handle that you have selected is associated with another account that already exists. Please verify that you have entered the right social account, or contact support for assistance.
If you're still receiving this error message after double-checking that your username/URL is correct, please notify our
Support Team
for further assistance!