Your Campaign Details page can typically help you automatically collect posts that are related to a Campaign if the content matches the Campaign parameters.
Why is my Campaign post missing?
Here are some common reasons why a post that you have published might be missing from the Check Live Posts section of your Campaign page:
Your post caption does not include one or more of the recommended Campaign keywords or hashtags. Information on the keywords and hashtags you should use in your content can usually be found in the Campaign Description.
(For Instagram Stories only) Your Campaign keywords or hashtags are mentioned as a sticker on your Story. The software can only "read" tag data in your Stories when they are included in a regular text caption rather than a sticker format.
The post was published to a social channel that is not listed in your Campaign Requirements. For example, your Campaign requires an Instagram post, and your content is published to TikTok.
Your partnering brand or agency is not aware of the social account on which you have published your content. For example, if you manage more than one Instagram account, your partnering brand or agency may be monitoring a different account than the one you published for this Campaign. You may need to reach out to your Campaign Manager to update the social account they have on file for you.
The post was published to a private account. Note that your account will need to be a public, professional or business account (depending on the social channel) in order for content to be collected.
The post was published outside of the active date range of your Campaign. You can find the active date range at the top of your Campaign Details page.
Your post was published in the last 8 hours. It can take some time for recently published content to show up in your Campaign Details page.
(For Instagram Stories only) The Instagram account that you have published your Story to is not authenticated on your Creator Dashboard Link Accounts page.
How do I add a submit a missed post to a Campaign?
In cases where your content is missed, you can submit a live post to your Campaign Manager from within your Campaign Details page using the Check Live Posts > Submit Live Post button: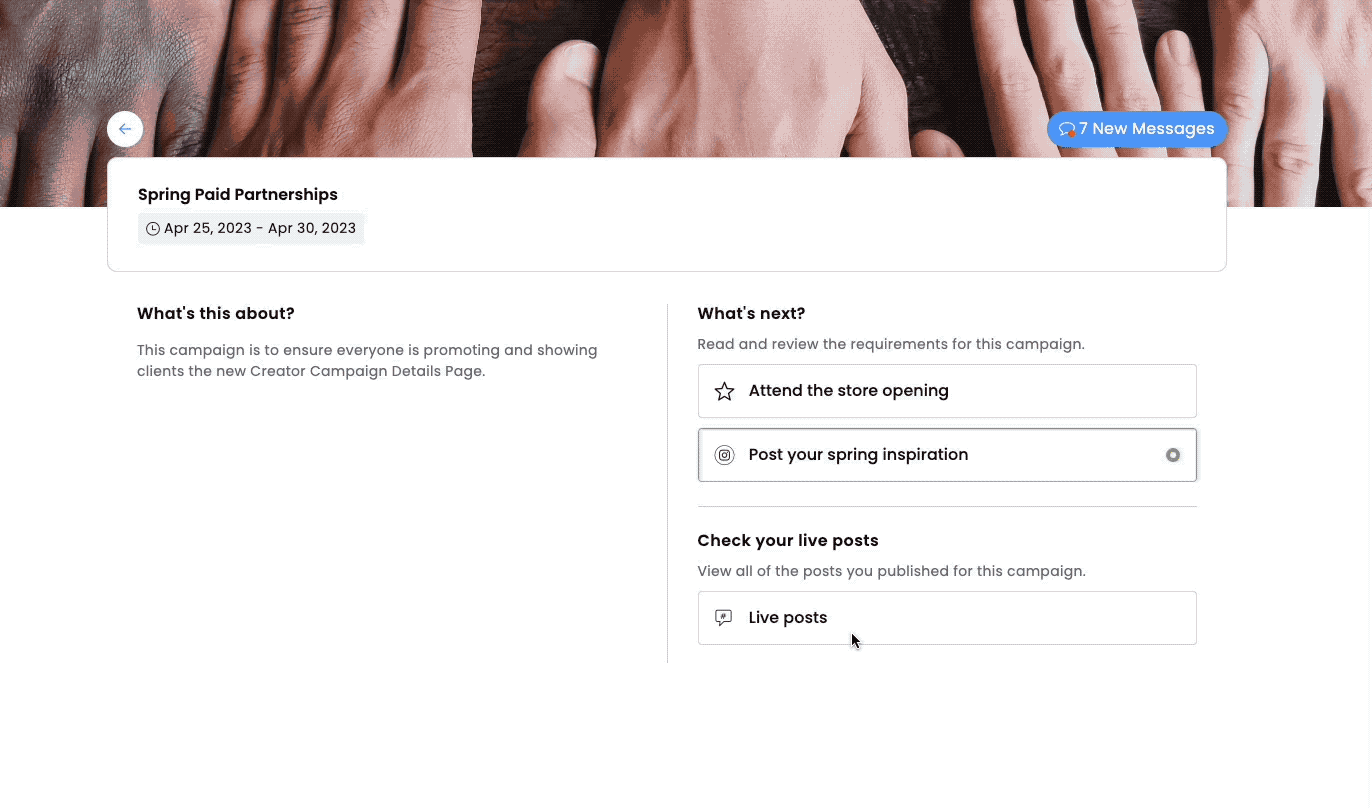 💡Tip
If your content requires approval before publishing, click here.